You do not have to be a member of the Health Club at take advantage of physical therapy. We accept all major insurance plans for your physical therapy visits. River Oaks Physical Therapy offers a full spectrum of doctor-guided treatments which include any combination of: therapeutic exercise, joint mobilization, manual stretching, spine mobilization/traction, neuromuscular re-education, gait training, and multi-modal therapy such as ultrasound, electronic stimulation, mechanical traction, and moist heat/cryotherapy. Common areas of focus for clinical rehabilitation include recovery from various spinal surgeries such as fusions, disc replacements, and kyphoplasty's, joint stabilization in the shoulders, knees, hips, and ankles, as well as balance/gait improvement, sports therapy, and more.
"Our goal at River Oaks Physical Therapy is to provide superior rehabilitation services to assist patients in recovering from pain and injury so they can return to enjoying their active lifestyles. We are passionate about getting to know each patient and providing a personalized approach to their care, as we firmly believe this results in the best outcome possible"
Corporate Fitness
"HEALTHY EMPLOYEES. HEALTHY BOTTOM LINE."

RETURN ON INVESTMENT
After the initial investment, wellness/fitness programs immediately begin paying for themselves through fewer hours lost to sickness as well as savings on health care costs. An additional benefit can be seen in employee retention as employees feel more valued by their employers.
FITNESS EXPERTS
Health Club at Travis Place has helped downtown professionals achieve their fitness goals. Our fitness team can help assist your employees with weight loss, nutritional guidance, fitness programs, and stress relief.
CUSTOMIZED FITNESS
Because the needs of every employer are different, Health Club at Travis Place can customize a corporate fitness program tailored to your work environment, hours of operation, and employee preferences. It's as simple as meeting with one of our corporate fitness professionals to determine the best program for your company.
For more information
On our corporate fitness programs, please contact us at info@hctravisplace.com
Most people know they need to workout, but the real secret to success in reaching desired fitness goals is knowing what to do and how to properly perform the exercises for maximum benefits. Our personal trainers provide the leadership that ensures you will obtain your fitness goals.
Beginning with your fitness assessment, our personal trainers will gain an understanding of your current fitness levels and what you want to achieve. Whether you want to slim down, bulk up, or simply improve your overall cardiovascular fitness, Health Club at Travis Place offers the instruction, equipment, and programs that will get you there.
Our personal trainers can design a customized plan to match your current fitness level while propelling you towards your ultimate fitness goal. If you are ready to take aim at a healthier, happier you, let one of our nationally certified Personal Trainers assist you.
Personal Training Options
There are many options when it comes to personal training, select the one that best fits your fitness goals and lifestyle:
One-On-One Personal Training
Train with a trainer one-on-one. Receive exclusive one-on-one attention from a personal trainer.
Semi-Private Personal Training
Train with a friend or co-worker with a personal trainer. This option allows you to share the cost of a trainer and still receive the benefits of motivation, friendly competition and the attention of a trainer.
Small Group Personal Training
Train with a trainer with three or more people. This type of training is great for friendly competition, highly motivated workouts with the watchful eye of a personal trainer, at a reduced rate.
You don't have to spend all day in the club to obtain results. Our training sessions range from as little as 15 minutes per session up to one hour. Your time is valuable and we understand that, so our trainers are ready to lead you to your fitness goals by designing the right program that fits your needs, wants, and lifestyle.
Active Stretching Program
Flexibility exercises lengthen and stretch muscles and are fundamental to any workout program. Stretching exercises help athletes warm up before and cool down after a workout. With age, our muscles become more rigid and our flexibility decreases, creating daily difficulties in everyday activities. Staying active by stretching regularly helps prevent loss of mobility as well as chronic back pain from poor posture habits.
Benefits of flexibility exercise
Better overall health and vitality
Decrease the risk of injury
Increased blood flow and nutrients
Maintaining muscle flexibility allows clients to enhance their aerobic training and strength conditioning and recovery faster from injury. This optional, but highly recommended program consists of our coaches developing a custom stretching routine to complement your fitness workouts and address any specific needs.
Guided Fitness (Group Fitness)
If you feel lost in a gym or need more than just workout equipment or a generic meal plan, River Oaks Physical Therapy & Health Club at Travis Place is for you. Our program is tailored to the needs of each individual client and addresses fitness, nutrition, flexibility, and now physical therapy. You're never alone with our expert training staff guiding you through each and every workout.
Start your new healthy lifestyle right now. We are not barking fitness coaches — we treat you like family and greet you by name. We take the time to explain correct techniques, so you feel comfortable and confident every step of the way. We offer a flexible program that allows you to choose your level of engagement within each of our services.
Health Club at Travis Place offers a variety of group fitness programs to get you to your fitness goals.
Our group fitness selection is easy just by selecting the programs that correspond to your fitness goals: Strength; Endurance; Shape; Flexibility & Balance. Try our Yoga, high energy Zumba, challenge yourself with Strength Zone, ride in our group cycle class or our popular Step It Up class.
No matter what your skill or fitness level is, all of our group fitness programs are at your own pace.
NOW OFFERING:
FITNESS ON DEMAND
With Fitness On Demand, you can select from a wide variety of classes at any time, making it convenient for you to take a group fitness class when you want. New classes become available constantly, which gives you a large selection of classes to choose from. Inquire with our staff to get a demo and learn how to use Fitness on Demand.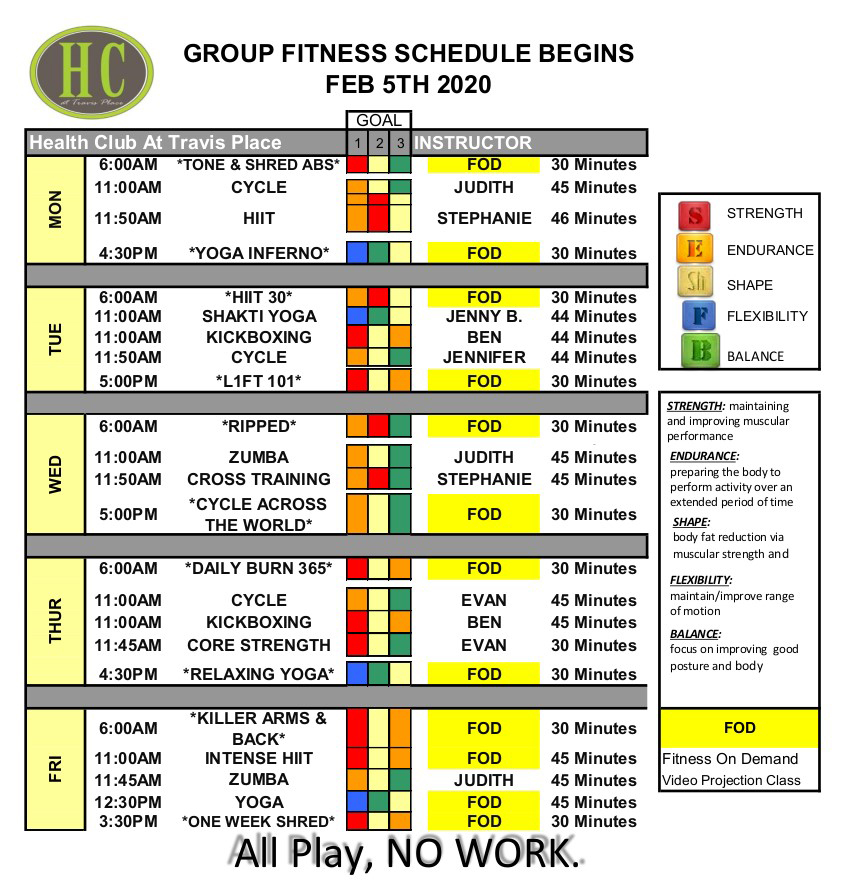 Our Customized Nutrition Coaching Program
Everyone has different weight loss needs, so using a one-size-fits-all program will never achieve the results you're after. At Health Club Fitness, we customize our medically supervised program to you. It starts with an initial assessment where we get to know you better as a person and understand your specific objectives, preferences, and needs. From there, we use the cutting edge InBody™ Scale to measure useful metrics such as body fat percentage, muscle mass, water weight, and more. Armed with this information, we create a starting point to track your progress. Your personal nutrition coach will also collect information regarding your medical history and review with our staff nurse to be sure we are on a path that is both safe and effective.
Once we have our baseline understanding of your situation and objectives, our nutrition coach will customize a meal plan suited to your needs. Of course, no meal plan works on its own. Your coach's #1 priority is to also provide continuous positive encouragement along the way with zero judgment. If you're into technology, we even offer free use of the Healthie app, which allows you to track your meals simply by taking pictures and also communicate with your coach remotely.