Physical Therapy in Downtown Houston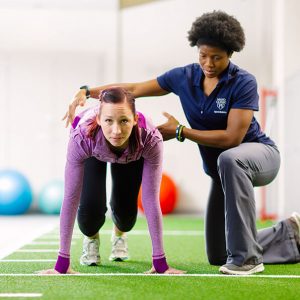 River Oaks Physical Therapy at Health Club at Travis Place provides quality sports rehabilitation and physical therapy in downtown Houston, to help our clients get back to living a normal, pain-free lifestyle. We take a strategic treatment approach tailored to meet each patients' individual needs, not only to reduce pain but also to improve overall wellness.
Part of the plan is to provide patients with the skills and knowledge needed for self-management practices to ease pain and restore functioning capabilities. Our downtown Houston wellness programs include spine alignment and age-related injury prevention, among others. These methods are based on solid evidence and can help patients see improvements in as little as 3 to 4 visits.
How Our Downton Houston Wellness Programs Can Benefit You
There are many benefits to visiting our downtown Houston physical therapy location. Our goal is to help get you out of pain, rapidly and efficiently, so you can resume your normal activities. All our physical therapists are licensed professionals who will spend 60-minute sessions with you during your scheduled evaluation.
The PT will provide you with face-to-face interaction to discuss your goals and develop a treatment plan to reach them. We also offer group therapy sessions. You will also learn about the gym equipment available to you and how to use them. The sooner you start physical therapy, the faster you will get back to living a pain-free life.
How It Works
First, you will need to schedule an appointment to be seen by a physical therapist. Your evaluation will take place in our Houston Texas physical therapy facility or sessions can also be home-based.
During your initial visit, the physical therapist will find out where your pain exists and reach a diagnosis of why it persists then discuss your treatment options with you. In addition, depending on your level of pain, he or she may also perform a treatment method or exercise program to start the pain reduction process. Finally, the therapist will make some recommendations that could include lifestyle changes or daily routine adjustments.
The following are just some exclusive methods your therapist may implement or suggest once your receptivity is determined.
Specialized exercises:
Eagle arms
Doorway stretch
Neck release
Shoulder circles
Seated twist
Downward dog
Pendulum
Chest expansion, etc.
Exclusive methods:
Joint mobilization
Ultrasound
Stretching
Strengthening
Kinesio tape
Athletic taping
Heat therapy
Cold therapy
Hands-on therapy
Electrical nerve stimulation
Workplace ergonomics, etc
What Our Patients Have To Say
Many of our clients have expressed their satisfaction with our physical therapy in Houston, in their testimonials, found here. You will also find that most patients continue to see the same provider every visit for the treatments they receive, and many patients we see were referred by a friend or family member who was previously treated by us.
Insurance Coverage and Payments
At our downtown Houston physical therapy location, your insurance covers your physical therapy sessions. However, you are required to make a small co-payment to cover the extra costs. We also accept Medicare and other major insurance plans, and you can currently receive physical therapy for up to 2 weeks after your initial evaluation without having to get a referral.
Our Guarantee
We guarantee to provide the best customer service to all our patients. We offer fast, friendly, professional services, immediate appointments, over 20,000 procedures, and early morning and evening appointments for convenience.
Get Active Again with Physical Therapy in Downtown Houston
For more information, please visit riveroakspt.com.